The "Good Point" blog is about "Ethical Electronics Exports, Fair Trade Recycling". Composed by Robin Ingenthron, founder of Good Point Recycling and the WR3A non-profit, the site discloses the company's position, policies, as well as the personal opinions of its founder. It has become an important source of inside information on the "e-waste recycling" business for academic research into recycling policy. The website invites dialogue, promotes discourse, and twitters recycling policy forward, using humor, music, and mind-bending analogies to convey important issues.

The recycling industry has been accused of misleading consumers. Ingenthron hopes that a "warts and all" blog which fully discloses the company's opinions and practices will temper cyncicism about green businesses. Frequently cited by the recycling trade press, the Vermont blog has been labeled "bracingly honest", a "creative approach", and a "refreshing" break from recycling dogmas.

To add our blog to your own RSS Feeds, paste this link: http://feeds.feedburner.com/blogspot/GQskD

As a passionate defender of "fair trade", Ingenthron writes, "Our company's first motto was that we are who we say we are, and we do what we say we do, which is kind of a sad commentary on the e-waste recycling industry." He hopes that in the future, people can once again take that for granted.

Meanwhile, a growing number of academics, entrepreneurs, and government recycling coordinators use the SEARCH function on the blog to mine answers to specific questions. They find external links to film of operations overseas, data on the company's Mexico operations, export policies, its domestic recycling capacity, hard drive data management, and more. The Good Point blog offers insights into positions staked out by EPA, ISRI, NRC, NGOs, and International institutions on mining, disposal, and recycling alternatives. Perhaps our most important followers are overseas.

Before creating American Retroworks Inc. and WR3A.org, Robin Ingenthron was Recycling Director at Massachusetts Department of Environmental Protection. His division implemented the first CRT "waste ban" regulations, the first market research on CRT reuse and recycling, and the first state RFP contract for municipal "ewaste" recycling (a state contract is enforceable by the Attorney General, giving it more teeth than a "Pledge" or "Certification").

Ingenthron has a BA in International Relations from Carleton College, and spent a semester at the UN in Geneva. With the US Peace Corps, he trained in Congo and taught school in Cameroon. He was hired by Peace Corps to stay in country as a "cross cultural trainer" before returning for an MBA Peace Corps scholarship at Boston University. He worked as a consultant for operating systems software industry, and as a co-director of two recycling non-profit organizations.

Good Point Recycling is a member of Vermont Businesses For Social Responsibility, Association of Vermont Recyclers, and the World Reuse, Repair and Recycling Association [WR3A] an organization which establishes "Fair Trade" standards for surplus electronics exports, ensuring no "toxics along for the ride".


Latest Top (10) News
---
GPS LIE DETECTOR? Flagrant False Claim #Ewaste Watchdog (GPS Tracking Monitour interview)
Wow, haven't followed up that much since the MIT SenseAble City Lab and BAN GPS tracking project was pulled to MIT legal office about a year ago. Readers are aware that this blog tracked many of the devices into places that BAN didn't want to talk about - like a University reuse operation in Faisalabad, or modern 21st century EcoPark in Hong Kong (no longer obscured in Monitour).
Well I just ran across a little video produced in 2017 by Luen Hai - Decoding the Connection. In it, at about minute 6, a Hong Kong reporter identifies Jim Puckett of Basel Action Network as an important expert in e-waste imports to Hong Kong. Then Jim says the following on screen that 54% of the GPS trackers the organization placed in e-waste was shipped to Hong Kong.
If you know about this study, you may think I made a typo. But this is Jim's recorded voice, in his own words... screenshots with subtitles below.
1. "These little trackers, and I can show you one,
they are like little lie detectors
"
IRONY of IRONIES... Listen to what Jim tells the filmmaker about the GPS "lie detector"... Full video at bottom below.
2. "They just go out there and they tell you precisely where that electronic device ended up."
3. "And so we then found out that about 54 percent of the 205 trackers..."
4. "that we put out in the United States went to Hong Kong."
5. "And that was news to us, certainly to the world."
You all know that
only about 35% of the 205 trackers placed in the USA
were exported ANYWHERE at all. Below is a screenshot from MIT Senseable City Lab of the final count of the 205 GPS trackers. Inside USA = 136. Outside of US = 69. 69 / 205 = 34% (rounding up). And outside the USA includes Canada and Mexico!
Moreover, we showed last year that some of the devices appear to be in densely populated areas (one appears to be located in a Hong Kong restaurant), likely reused. The racial profiling of Hong Kong as a "primitive" area of "rice paddies" is itself disgusting racism. Hong Kong has a higher per capita income than the United States of America!
There were some pretty junky looking recycling yards BAN brought film crews to, but BAN did NOT bring film crews to a single reuse facility or to Hong Kong's massive 21st century EcoPark facility (where some devices were claimed to have been sent).
I thought maybe Jim's claim that 54% of the GPS devices winding up in Hong Kong was an editing mistake (that maybe he meant of the 34% exported at all, 54% of those went to Hong Kong, or 54% of printer scrap, or something). But that's why I took the screen shots FAIR USE above. In a single sentence, he says 54% of the devices PLACED IN THE USA went to HONG KONG.
Remember, this NGO's testimony to Interpol and USA Congress about 80% of e-waste being exported was presented by the UK Barrister as "common knowledge" in the horrible framing of #freehurricanebenson #freejoebenson The same watchdog spokesman composed a spectacular false claim about Agbogbloshie (A Place Called Away) the year before Benson's arrest, and introduced Mike Anane to an Interpol gathering as an expert eyewitness (Anane claimed that Agbogbloshie was a lush green fishing village in 2002 - a lie that flabbergasts any Accra resident).
The GPS tracking study is turning out to be a LIE DETECTOR all right.


Tue, 22 Aug 2017 20:50:00 +0000

---
Europe (and INTERPOL) Focus Still Explained by "Strategic Metals"?
INTERPOL announced 30 days of "recycling crime" enforcement this week.
On this I will give them points - They are targeting automobile "recycling crime" and waste exports, and not as many of the photos seem to show reuse or Tech Sector imports. I believe Fair Trade Recycling (WR3A) has been effective in reducing the enforcement agency's obsession with "e-waste exports".
The photo of lead-zinc ore for sale from Africa's most toxic mine (Kabwe in Zambia) is apparently legal. There's no law targeting the most toxic activity on the planet, because it isn't "waste"... so there is no fetish attached to it.
I love INTERPOL's focus on tigers and elephants and shark fins and ocean dumping. I'm enthusiastic about illegal forestry and charcoal trade. But what explains INTERPOL's strange obsession with recycling, when MINING is so much worse for Africans and the planet?
Mining lead-zinc ore from Africa's forests, for sale to Asia and Europe, is legal.
But it is apparently not legal for Africans to buy back scrap metal?

Interpol's focus on tigers, ivory, sharks, endangered species, is critically important. But until Interpol hires Tech Sector experts to distinguish between second-hand goods and waste, and identifies scrap metal as a raw material rather than "waste", they should not dilute their enforcement of clearly criminal activity.
Still, the photos INTERPOL presents on Twitter appear to show junkyard metal scrap. It appears to be for scrap recycling. The buyers apparently paid for the shipping (a European didn't pay someone to take it). And that reminds us of the "waste tourist" claims from as recently as Interpol's 2015 Report.
As we revealed on this blog, the "waste tourists" Interpol Tweeted about this week were African reuse equipment buyers, who come to inspect the quality of goods before they pay to import it. The "waste tourists" came to the UK to make sure they were NOT paying for junk.
While the latest Interpol "Recycling Crime" enforcement appears to target scrap (fewer photos of reuse shipments), there remains an unfortunate appearance of a focus on retaining "strategic metals" in EU's circular economy. Mining is FAR worse for the environment than even the worst recycling.
The second and third photos (displays imported to Africa in 2006, 2016) continue to raise suspicion.
Did you ever look at the 2011 UK House of Commons "Strategic Metals and Minerals" Report? It was during prosecution of Joe Benson (and halfway between the photos) when UK Env Agency prosecutor declared "common knowledge" that "80%" of Benson's goods would be dumped.
http://www.parliament.uk/business/committees/committees-a-z/commons-select/science-and-technology-committee/inquiries/strategically-important-metals/
Yet the House of Commons report estimated the non-functioning at 19% (a fairly specific estimate). The HOC declared nevertheless, European mining had become too toxic and expensive, and EU needed to retain the metals by stopping the reuse exports.
In that context, I wonder why no one writes about Kabwe's primary ore mining.
COULD IT BE THAT EUROPE'S INTEREST IN RETAINING SCRAP IS THE SAME AS EUROPE'S COLONIAL INTEREST IN DEVELOPING MINING COLONIES?
I don't think so. I just think Interpol should stick to endangered species, sex trafficking, gun-running, and hazardous waste.


Thu, 17 Aug 2017 20:23:00 +0000

---
Another EU EWaste Documentary: E-Life by Ed Scott-Clarke (Teaser)
Have only seen the
E-Life Youtube trailer so far.
Ed Scott-Clarke did respond to my email and suggested I wait to see the documentary. So... this is only a review of the trailer. A teaser of the teaser (I'll review the whole doc when I see it).

So far, same old same old.
A 40 year old TV plastic housing is used as a frame to film men ("boys") burning wire on that spot on the lagoon shore. Supposedly, 40 year old TVs and VCRs are being dumped on primitive tribesmen on the shores of Ghana.
http://www.edwardscottclarke.com/news/2017/8/3/e-life-wins-its-first-award
Executive Directors Lars Wogen, John Ditchfield, and James Scott-Clarke (relation?) had access to both sides of the story. The trailer shows one side. I can hold my breath, but the fact that they use the exact same "50 year old kitchen CRT TV plastic" in a smoky Agbogbloshie frame for their title shot makes me pessimistic.
Kids asked to pose with 1990s PCs on heads... The "majority"?...
If this is representative of what the documentary rolls out, it will say that I'm completely ineffective. I interviewed with Ed and his crew for over an hour, almost 2 years ago. I had my chance. But of course, that was after they'd been to Ghana and filled their camera hard drive. I'll guess they did not go back to film what they missed -
Africa's Tech Sector.
The Tech Sector has the connections - the diaspora of African relations in wealthy nations - to source used cars and electronics (and clothing and furniture) and load it onto containers for Tema Port in Ghana. Every container is unloaded in a fenced government yard. The goods are all inspected. But what really acts as enforcement is the cost. It costs $5,000-10,000 just to ship 500 TVs (ocean freight). That's only $10 per TV, but that is 5 times more than the scrap is worth. Add the cost of buying the TVs, labor to load them, cost to redistribute them to cities across Ghana (not a single sea container goes to Agbogbloshie). The story narrated in the trailer, that junk goes from Europe or USA to the African dump, doesn't add up.
There's next to nothing in the trailer's film that even resembles significant foreign dumping. Automobile wire, a couple of PCs... Again, there's far less e-Waste visible than the City of Accra has to be generating.
But the photographer's recipe of tire fires and pics of kids at dumps will *** you in the eye sockets for another one night stand of poverty porn.
What
does
add up is missing from the trailer. The number of Ghana households who watched
Ghana's national team
ten years ago in the 2006 World Cup (Soccer/Fut). ... ON TELEVISIONS they obviously possessed that year. They watched it on TVs they had purchased 5-10 years earlier (80%+ of Accra households had TVs in 2002). Today those TVs would have been in use in Ghana more than 15 years.
Whose story makes more sense? Africans bought TVs and quickly discarded 80% of them for copper value? Or Africans are watching TVs, using them for 15 years, and replacing them - just. like. you?
Accra Used Computer Shop February 2017
Will the documentary tell us that the used material sold in Accra shops TODAY is much more modern (5 years old) than the crap at the dump (20 years old)?
It, too, will be discarded in the African cities after 15 years of use. Which is 3 times longer than Europeans and Americans use it... they are quadrupling the lifecycle.
I look forward to seeing Ed Scott-Clarke. Maybe it will be showing at E-Scrap (where I met Ed and did the interview). MAYBE I'm all wrong and he will tell a much more nuanced story about Africa's repair and reuse skill, about the innovative Tech Sector, and maybe say something kind about those of us in the industry who refuse to boycott geeks of color.
We shall see.
Meanwhile, if any reader hears a photojournalist say I'm lying about this (as @SashaRainbow told her followers after blocking me on Twitter and Facebook - she thinks), I will pay you to contact me directly with what the photojournalist claims, and I will patch you in to the guys who burn the wire. I know the top guys by first name, and we speak every month (Razak Whatsapp'd me while I was composing this).
To say I don't care about their health and their future is insulting. It makes me mad. Let's compare how hard the documentary people worked (spoiler, they do work hard but they all seem to think it's harder and smarter than anyone else) and compare that the Africa's Tech Sector and the USA recyclers willing to stand against RACIAL PROFILING and sell them what their country needs. Which is NOT 40 year old crap. They NEVER, EVER buy that and never did. And if they didn't there's a pretty good explanation for what's at the dump.
Because my landlord had a TV when I lived in Africa from 1984-87, and it may be at a dump now. But I'm not going to blame Joe Benson.
Finally, let me repeat I have not seen the whole documentary, just the trailer. I would not expect a trailer or teaser to present more than the "
Horror Movie Logic
" (
·
CBC Arts
·
that propels too many Colonialist Guilt Documentaries.
When I see a Volkswagen in a Vermont scrapyard, it does not occur to me that a wicked German paid someone to ship it here to avoid recycling fees. I immediately assume there is a "backstory" to the VW, someone who bought it new, who traded it in, someone who drove it used, had it repaired. I assumed it lived a longer life than it would have had with a single owner, and that each owner benefited from owning the car, at least up to the point they traded it in or discarded it. An old car on a USA scrap pile doesn't exoticize or emotionalize our relationship with Germany. Hopefully, 5-10 years from now, Ed Scott-Clarke will appreciate the nuance and won't feel attacked by my defense of Africa's Tech Sector, who bear the full brunt of EU enforcement.


Fri, 11 Aug 2017 10:50:00 +0000

---
E-Missionaries Saving African Recyclers: 9 Stages Of Eyes Adjusting to Dark
Senegal Computer Salesman - 2006
The 2006 picture of white computers shows a Tech Sector importer in his shop in Dakar, Senegal. The Pentium 3s and 4s were likely 5 years old. They'd be 15 now. The picture itself is 11 years old. Someday, the computers will be Senegal's e-waste, if not already.
Until then, they brought the internet to people who could not afford to buy new. And Souleymane, the geek in the white shirt, was one of the most interesting people I've met in a decade. He stayed at my house. We cooked and broke bread together. I accepted his money, and he accepted those computers from Vermont.
Most of us don't have a personal connection with Africans in photos of exported e-waste. And most of the photos in the mainstream press do not have any specifics... names, age, date of import, chain of possession, etc.
Contrast the 2006 import shop with the 2016 photo.
Unfortunately, neither photo is typical in news reports on exports of used electronics to Africa.

What do the photos below say to you as an Electronics Recycler?
It depends at what Stage of the Recycling Export Experience you have achieved. To end racism and environmental injustice, you must first remember a lesson from childhood.
Let your eyes adjust to the dark, and it won't frighten you as much as it does at first.
Here are the 9 Stages of Export Denial and Acceptance.
Stage 1:
You have a used goods or scrap recycling company. An African or Asian offers you money, more than the scrap is worth. You sell it to them and feel like you made profit and a new friend.
You haven't seen the photo yet....
Fair use of screenshot from McElvaney Youtube video making false claims
Stage 2:
You see pictures and read scary stories about 80% of exports by Africans and Asians being bad for the environment. You start to hide your colored friends, downplay them. They only buy 15% of your stuff, after all, not 80%.
The photo expresses a liability... it scares you.
Fair Use of Bellini photo in Washington Post falsely claiming Yahroo was a "boy"
Stage 3:
You can't hide it from your own employees, so you have an idea. Your competitors are shipping 80% - but YOU are only shipping 15%! You decry the competitors bad actions.
The photo is an offensive weapon against competitors.
Fair Use of Placebo Screenshot with false claim that exports caused poverty
Stage 4:
A competitor says it's only YOUR word that you are only shipping 15%, and tells your clients HE is "certified" and you aren't. So you pay for certification that you don't export 80%.
The photo shows the value of your investment in certification.
Fair Use of Organization Web Photo falsely claiming one typicality of dumping
Stage 5:
Your certification agency inspectors have never been to Africa or Asia, and don't know what is going on with the 15%, but they know their sales (certifications) are driven by fears of pictures of primitive practices in Asia and Africa. So the inspector focuses on your 15% (not what happens to the shredded 85%). See Stage 2... you downplay it and re-distance yourself from your colored friends.
The photo is a fetish, a warning, a sword held over you.
Stage 6:
Your African buyer complains you aren't selling as much to him anymore, and that he has had to buy worse quality from uncertified companies willing to sell to him. You explain that you aren't happy either. So you fly to Africa to inspect the downstream and tell your clients you have checked it out. With a plane ticket and a short vacation, you'll be an international expert.
The photo becomes something you are ready to see for yourself.
Stage 7:
In Africa you are confronted with traffic jams and universal ownership of TVs and cell phones and computers by millions of people. You learn they have had this teledensity for well over 15 years, far enough time to generate their own waste. You realize everything they are doing - buying, using, replacing, discarding - is exactly what Europeans and Americans do. You do see dirty, poor scrapyards near slum areas of town... but after a month you do not observe a single sea container (much less 500 per month). You begin reading, and find out the 80% waste statistic was made up by the certification founder.
The photo now represents a very small sample of a vast and complex emerging market society.
WR3A Africa Tech Shop 2003. 15 years later, these are discarded. Like yours.

Stage 8:
Your African friend is arrested in the UK and sentenced to prison for 5 years based on "common knowledge" (verbatum from the prosecutor) that since he was exporting used electronics (he purchased, wasn't paid to take) that 80% will be dumped. The judge accepts the assertion - sans habeus corpus - that 80% of his exports arrived by sea container at the African dump. Your friend is accused of paying money to dump waste in his own country, and is sentenced based on statistics you learned (#7) were made up by the certification founder you are paying money to.
The photo is now a burning cross on your friends lawn.
I am at Stage 9.
Atticus Finch.
Huckleberry Finn.
John Brown.
William Lloyd Garrison, and Arthur Tappan...
Frederick Douglass, Martin Luther King, Malcom X.
#ScrapLivesMatter?
You stand up to the Bullyboys, even when they are from your own Tribe. Your own ENGO tribe, your own Certification Tribe.
You tell people that the photos, the "poverty porn" is itself an environmental injustice, racial profiling, racist charitable industrial complex, supported by shredding machine (Big Shred) sales and self-serving certification founders. The import isn't perfect, but who are we to think that boycotting African and Asian buyers will make their supply chain better (rather than drive it into back alleys and black markets)?

We have met Environmental Injustice, and He is Us.

2016 Imports - What's Selling In Africa Tech Shop Today WR3A
Next Blog: Teaching the E-Waste Missionary Position?


Wed, 09 Aug 2017 05:05:00 +0000

---
Achtung Germany! Agbogbloshie (Ghana) Pollution is from AUTOMOBILE Waste Not E-Waste / WEEE
MISDIRECTED FOCUS
The 'Burning Environmental Issue' is Automobile Waste, not e-waste.
Clean up Africa's car pollution, worry about electronics later (when you understand it).
Hey, Listen..."Sending European used cell phones" to Africa is not the problem, and arresting African export-import traders won't clean the water or bring back "Eden".
For two years, I've been making the point that Agbogbloshie is not the largest e-waste dump in the world, and that geeks of color are being racially profiled and arrested. Those things are true. But Accra
is
polluted, and the
grants to date
are misspent and misdirected.
Before
Germany spends $15M - 25M on an e-waste recycling solution
, they should look at the photos in the link more carefully.
It's a tire, and a ball of automobile wire, not a cell phone.
There is a serious pollution problem in Accra and other African cities. Its cause should be obvious as you wend your way from Accra's Kotoka International Airport to the hotel, the day before you spend another hour wending your way to Agbogbloshie's slum... or stuck bumper-to-bumber in Accra (or Lagos, or Nairobi) traffic.
Cars.
Autos.
Vehicle-Waste.
Follow the trail.

[photos taken at Agbogbloshie Scrap Yard by Robin Ingenthron for WR3A - except for the screenshots from MTV music videos of Placebo and Beyonce, and DW article]
Screenshot of our buddy Awal Muhammed Basit / SashaRainbow Placebo MTV video
The water in Korle Lagoon was undrinkable before cell phones were even invented. Nobody was swimming and fishing there in 2002 (and anyone who claims so is incredible).
The smoke at Agbogbloshie is awful. But the Blacksmith Institute's $1M wire recycling grant (which was reportedly nibbled away at until the site got a $100k industrial cable cutting machine, clearly unsuitable for electronic wire) did little, if anything, to alleviate it. You can't save Agbogbloshie without addressing auto waste. Correctly diagnose a problem before issuing treatment.
Even most of the
wire burning
is automobile harness wire!
Ask an Expert Which Automobile Make and Model This Console Harness wire came from
Mise au point mal orientée
Stormwater runoff in Accra is full of motor oil and freon. The Odaw River is dead kilometers upstream, before it even reaches Agbo.
The first big wire-looking pile I saw at the burning area of Agbogbloshie was actually steel radial wires from tires. The smoke is from tires, set alit with gasoline. The young men burn car seats and console plastic. Most of the scrap in Agbogbloshie is car waste.
If Germany is going to spend $15M Euros on a recycling plant, before they begin, they need to focus on automobile recycling. A grant for cleaner scrap processing tools and PPE could actually do a lot of good.
In the meantime, Accra has malaria, and malaria comes from mosquitoes, and mosquitoes are breeding in abandoned tires... so the burners are actually doing the city a service, at the expense of their lungs. Buy them a tire shredder.
Misdirected Focus? The pile BEHIND the photographer is tire radial wire. From burned tires.
Here are some photos to explain this. If Kevin McElvaney, Sasha Rainbow, StEP, UNEP, Bellini, Jacopo Ottaviana, RT, BAN, Greenpeace and others who have hyped the "largest e-waste dump on earth" actually give a scrap about Africans and their health, they will stop using photos of this site to leverage money from OEMs (Samsung, Sony, LG, etc) and agree that Agbogbloshie is an automobile waste filter for Ghana. The lead in the soil likely comes from lead acid batteries and insulated industrial wire casings. The machine strips thick utility grade cable, which can have leaded insulation, which used to be burned (to hide theft). After the cables are stripped in the new PureEarth chopper, someone should make sure the casing doesn't wind up burned at the landfill, like the auto seats, tires and consoles.
Water quality and air will never improve until the traffic jam - to - scrapyard cycle becomes "circular economy".
INPUT: Bicycle Waste in Accra can be managed in the Auto Waste Factory
You can keep all your exotic photos and all the alarm and keep recruiting young European white savior Barbie economy, nothing has to change. Just agree with me, right now, that the problem is automobile waste, and that electronics are a small small part of the environmental remediation.
OUTPUT: Car Junkyard Steel
Beyonce can keep her hyena photos, Placebo need not edit their MTV video, Kevin McElvaney can keep his creepy 'still not sponsored' videos, the poverty porn economy can continue, photojournalists can keep their jobs. Just change the "takeaway" to automobile pollution, stop criticizing Africa's cell phones. It's all still about pollution, it just need not revolve around arresting and chaining Africa's best and brightest Tech Sector refurbishers!
#freejoebenson
MISDIRECTED FOCUS: The little girl is in front of car scrap
Used electronics purchased for reuse by Ghana's Tech Sector will eventually be discarded, but the Geeks of Tamale have no intersection with the unrefined "boys" burning car wire in Agbobgbloshie.
Europeans are distracted by fire and childrens faces. They mean well, but no one is burning laptops. Where there is smoke, there's fire, but e-waste doesn't fuel it.
The root cause is poverty. This blog posted a link to a study two years ago which assessed wire burning and tire burning in several cities in USA and Europe (especially California and Italy), and associated it with young men unemployment. When unemployment drops, wire burning stops. Because it's bored testosterone laden guys who burn wires all day. There's very little money to be made in it. And when you compare the photojournalists fascination with the small part of Agbogbloshie landscape where the fires occur, you see we have something in common there.
Ghana will welcome its colonial saviors to help make amends through environmental remediation grants. Auto waste is issue #1. Charcoal stoves are probably #2. You'll have to go a long, long, long way down the list before you find "waste from unrepairable imported electronics" because no one in Africa has incentive or means to import that. And as our board member Emmanuel (born in Accra) noted, you can't start with keeping "strategic metals" in Europe if you want to pass for a partner. If you want the metals from the scrapyard to be sent back to Europe, either invest in takeback, or outpay the Chinese and Indians, just like everyone else.
If it's manufacturers you are after, here is the list of German companies whose scrap outweighs all the computer and TV and cell phone scrap in Ghana. They'd benefit from a 15M investment in Agbogbloshie that takes the material there - 90% vehicle waste - and turns it into clean steel, aluminum and copper.
Save the Odaw River, save the Korle lagoon. Invest in modern automobile recycling in Africa.
NOT by me, it's Sasha Rainbow's Placebo video. Life is what she made it.
Yep, more tire radial wire. Keeps mosquitos down
Not my photo either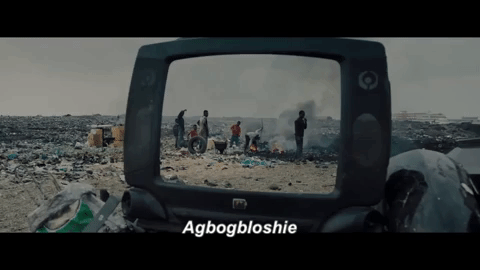 Next time, frame it with a tire, @itsSashaRainbow


Sat, 05 Aug 2017 08:44:00 +0000

---
CRT Glass Resolution: An "Own Goal" In Slow-Mo
The path of least resistance
is to trust our environmental regulators, trust the watchdogs, and assume that profit-driven industry is the villain, the fox in the henhouse.

The path of least resistance
is to assume that people questioning environmental enforcement are "apologists" who care less about environmental pollution than the enforcement proponents.
Sometimes those assumptions are 100% right. I'm not a carbon climate causality denier, and I'm proud of my 9 years of service as a Massachusetts recycling regulator.
But as a former regulator, I can attest regulators are not
always
right. Regulatory agency lawyers tend to be more risk-averse than private sector attorneys, for example. Regulators understandably want to hold themselves to "the highest environmental standard". But when there is doubt and uncertainty - an engineering problem for example - the regulator can become obfuscated and defend his own reputation. That is to say, when in doubt, the regulator has to act - in doubt. And saying "yes" or "no" sometimes boils down to the
regulator's own insecurities
.
And these lead to unintended consequences. #OwnGoal
Let me again state that what the agencies do, for the most part, is great. I'm suggesting an environmental police chief should look at community concerns the way any police chief looks at protest. You can stonewall and deny mistakes, claim 100% effectiveness in your policy. Or you can learn from a mistake and adjust your policy.
At least, that's the story of CRT glass piles.
Over a decade ago, California panicked when legitimate overseas factories were purchasing selected grades of desktop CRT monitors... basically over racial profiling. The SB20 spent hundreds of millions of dollars to destroy the monitors without ever actually visiting the factories that had been buying them. The supply of "broken CRT glass" was therefore spiked by a regulator's racial insecurity.
The companies that invested in equipment to break apart those monitors obviously wanted to protect those investments, and began funding a campaign of "Pledge" and "Stewardship" to make generators feel guilty if they used another company that disagreed with California SB20. That campaign consisted primarily of false statistics. "80%" of the CRTs purchased by Asian factories - according to testimony in Congress and to CBS 60 Minutes - would wind up discarded in "rice paddies". "Shaming" people who would trade with Asian buyers became commonplace. This led to Asian factories (Samsung Corning CRT Glass plant in Klang, PT Imtech in Indonesia) to stop buying CRTs from the USA, and source them from places like South Korea and Japan.
The
photos of suffering children
continued. Poverty porn became the driver of "American Electronics Recycling" (aka "Big Shred"). More CRTs in the USA got shredded, and the piles of CRT glass grew.
There was another option - native leaded quartz, mined from places like the
notorious "Broken Hill Mine" in Kabwe
, Zambia - is used as a "fluxing agent" at huge primary copper smelters. Instead of
mining the lead (anglesite, tarbuttite) from the mountains,
CRTs could be sized to leaded silica pieces and used in its place. After a lot of evidence was presented, EPA approved this use (as it had previously for lead smelters). But again, the regulators' CYA required them to place conditions... Anglesite was classified as a raw material and could be stored in a pile for decades (so long as it is birmed and monitored). But if the leaded silica comes from an "urban mine", it must be labelled waste and had to be consumed in one year, and regulators and certification bodies would come and verify that happened.
In response, the copper smelting industry stopped responding to the offer.
So now CRT glass recycling is so expensive that California and Illinois are putting it into landfills. Smelters mine it from the earth, and we are sticking it back in the earth at the other end. It's a "linear economy", not a circular one.
My point is not to say the corporate risk taking is always "correct". If I don't know what the environmental outcome of a corporate request is going to be, like most people, I will defer to the regulator. I'm not saying the private investor is more likely to be correct. I'm saying no one is 100% correct, and the way people "err" when they aren't certain tends to be CYA.
But in this particular case, the "watchdogs" of the environment scored an "own goal" or Autogol.
I've invested 10 years now into trying to open the smelters to using recycled content fluxing agent. All they ask is that it be called the same thing as the mined material - leaded silica for fluxing agent. If it's the same thing, they will take it. But I can't do this forever, I'm tired of being attacked and impugned and my integrity questioned by the watchdogs, and y'all can take your CRT glass and choke on it. But don't think the next generation of environmentalists won't know what happened. The students I meet with see the racial profiling, they see the "fear of the other", they see that the net environmental effects were less use of manufactured devices, more mining, and more carbon.
We sent our last shipment of CRT cullet last month. The floor at Retroworks de Mexico is clean, the books are closed. We stopped shipping from Vermont in 2013, and now the Chicas Bravas will need to find other work. Perhaps at the Nacozari mine... they can dig for raw lead out of the sides of the virgin mountainsides.
The End of Retroworks de Mexico
https://www.mindat.org/loc-4341.html


Fri, 04 Aug 2017 12:37:00 +0000

---
Ai vs Oi - Defining Original Intelligence
Musk and Gates are correct in their warnings. AI - Artificial Intelligence - will eventually have the means to use facial recognition software, etc., etc.

For starters we have to define "original intelligence".





Wed, 02 Aug 2017 00:57:00 +0000

---
Apple of California or Taipei iPod Contractors? "Birth of iPhone" is "Game of Thrones" Saga
In the Game of Thrones
(which am watching for the first time, binging Seasons 1, 2, and 3 during an Xfinity free-access trial). It's about the rightful sons and daughters, or "bastard" sons of Kings, and their rights and claims to Kingdoms and Thrones.
In our world, the Patent or Copyright or Claim of invention is the coveted throne of the modern "Rightful Heir".
And the stakes - for Titans like Apple, Samsung, Sony, or Foxconn - represent a far more wealth than the "Iron Throne" at
King's Landing
.
Game of Thrones keeps our interest, in part, by slowly revealing more dimension in characters introduced in a previous season (before killing them off and replacing them, perhaps with a new actor less willing to negotiate better salary.. another contract manufacturing angle). For those of us who study planned obsolescence and contract manufacturing, the history of
Android (especially Samsung) vs. Apple smartphones
is just as fascinating. (There's even a 'bit player' I know personally, a kind of Hong Kong Tyrion, that I know pesonally. Proview's Rowell Yang of the four fingers received a
check from Apple for $60M
five years ago. He had trademarked the name "iPhone" while I was a consulting with Proview).
In last weekend's WSJ.com, there's a fascinating chapter to the
claims that Steve Jobs is the rightful King. father of the smartphone
.
The Wall Street Journal's mini-documentary describes the "birth" - though I'd say "discovery" - of the iPhone. It's all true, and give credit to Apple where it is due. But many "missed the episode" of the Kings of Technology in Taipei, and how their development of touch-screen technology, and role as subcontractors (Mike Daisy's "slaves"), needs to also be filmed, to tell the true story.
On the iPhone's 10th birthday, former Apple executives Scott Forstall, Tony Fadell and Greg Christie recount the arduous process of turning Steve Jobs's vision into one of the best-selling products ever made.
As reported to me, the iPhone prototype came out of the iPod (then 50% of Apple sales) - just as described by Forstall, Fadell and Christie. IPods were being assembled then by Chinese contractors such as Hon Hoi Precision, aka "Foxconn", which would later manufacture the iPhones (and be hysterically criticized by Mike Daisy).
Whether or not the iPhone is the modern day Dragon in Thrones, it's lineage is suspect.
Watch the video from WSJ above.
Watch for minutes 2:15, when the iPod folks are brought into a room to see, for the first time, Steve Jobs ping-pong-table size touch screen. They were amazed and hadn't seen the technology before. (Are we supposed to think Jobs made it in his garage?)
Then notice minute 3:00, when the iPod crew are told to make something better or that Jobs would "give the job to another kid".
I know the other kid. And it's the same kid who made the ping pong table size touch screen Steve Jobs showed his American crew.
What follows, according to the Taiwanese side of the story, is that Steve Jobs basically does to China what Chinese engineers had been doing to USA for almost a decade. China has long been blamed for taking on work as subcontractors just long enough to steal key engineers or know-how and then copying, reverse engineering, and mocking up the patented USA invention. Boo hoo, it's called "shanzhai", and as we've described before, it's the equivalent in China of a musician stealing a guitar riff. Copying (and improving on) someone else's "patent" is just not culturally understood.
So tell it one way, and Apple did the same thing. Told another way, Apple beat China at its own game. What I like about either way is that it puts the Geeks on equal ground.
If you want to know more, find out which engineers left Taiwan for Vancouver, Canada, during the months Steve Jobs spoke about "giving the job to a new kid". It was bringing the touchscreen know-how from Taipei... genius not patent.


Wed, 19 Jul 2017 13:11:00 +0000

---
Religion of Retrospect
I consider myself religious, yet attend no church. I believe that all the things I have to be most thankful for are the result of some really "great books". Bhagavad Gita. Tao tse Ching. Plato. The New Testament of the Christian Bible. Cutting Through Spiritual Materialism. Aristotle. And others.
Here's how I judged whether something was inspirational, how it became great.
Retrospect.
(or Introspect)
I imagine or meditate about someone, perhaps a great-great-great-great-grandchild. Or much greater. It actually doesn't matter if we are blood related at that point. It's a future generation I imagine. 500 years from now. Or 5,000. Or 50,000. Or 50. I imagine if they knew everything about the way I live my life, and how they would judge me in hindsight.
Since I believed (and still do) that the future generations will judge our generations today based on resource depletion and species extinction, logic told me to choose a career which would extract less. I chose recycling.
I did consider going off to some kind of Veddantist Monastery. Heck, I played with the idea of starting my own religion, and my own promised land, before I ever was exposed to "latter day saints". But in my "retrospect test", I judged that it would be innocence through isolation, not actually changing or effecting any change. A "shiny conscience" which had never been used.
If I happen to die tomorrow, from my limited vantage point of retrospect, I'm ok with all I've done. I certainly didn't waste time trying to be popular. Because if our society is on a harmful path, with most of us doing little to preserve species or habitats or resources for future generations, then I'd assume it would take something unpopular to change it.
The other nice thing about the Religion of Retrospect is that as we grow older, we have no choice but to have a better perspective of how well we are achieving our goal. I have regrets, and I have pride. With more time, and more perspective, some decisions I made may grow or diminish in retrospective assessment. But the really bad decisions stay bad, and the best haven't changed much in hindsight.
A couple of my co-workers, who have passed away, still survive on Google Maps.
Yadji Moussa and Richard Eakin.
Both of them forgot to take off their work safety vests the day they were scanned by the Google Van.
And I think everything we do online, our hate, our love, our anger, our lust, our desires, our wisdom, contributions and treachery, is being recorded somehow. Some future AI program may assess or judge us, not just by what we have written and said, but what we have consumed. Did we purchase great books? Did we contribute great tweets? Our popularity or notoriety might have some weight, but "winners writing the history books" may be less of a factor in an information age.
The important thing is that the Religion of Retrospect is a faith. Whether or not our actions today will be recorded and known, or disappear in anonymous ether, how do we imagine we would see ourselves in 50, 500, or 5,000 years?
If I live every day of my life as if that mattered, I think that's what I'd see as important. 500 years ago, someone was living his life as if it would matter 500 years from now. Not in fame or notoriety, but in Retrospect.
I try to be a good father and parent. I think that will matter.
I try to be a good son, and to have been a good grandson. I think that mattered.
To be a good friend and contribute to society is very different from being popular in that society, for the reasons Plato described in The Republic and Jesus described in Sermon on the Mount and Lao Tsu described in the sages of the Tao. I'm known best today as a Recycler. But I chose the career of recycling because of the reasons in this blog. I was concerned about our society's depletion of resources through mining, refining, and extraction, and recycling other peoples' wastes into a circular economy seemed like a good way to spend my decades. I'd continue the meditation and philosophy, too, for sure. But if it's all deleted, the sum of the metals and plastic and carbon I was responsible for collecting is not a bad thing. In retrospect.


Mon, 17 Jul 2017 04:47:00 +0000

---
Fifth Week of USA College Students Apprentice Program in Africa Tech Sector
Fair Trade Recycling Update: How Four USA College Students Will Change The Way You See Africa's E-Waste.
Zacharia is amazing
Fair Trade Recycling has a positive message. Like the message in
Hans Rosling's seminal "chimpanzee test" video
- that ignited Gapminder in Sweden - our programs teach more about emerging markets. The 1960s "Third World" images are, themselves, a form of pollution.
This summer we have 4 USA college interns working across 2 continents - Africa and North America -
to create a partnership in parts supply. Two students (U of Florida and Middlebury College) have been working in an apprentice program for flat screen TV repair in Ghana. They are not just
learning about T-con boards and controllers, or how to spot and replace overheated capacitors
. They are seeing Africa's Tech Sector as equals.
"Karim Zacharia is amazing!!!"
I like getting that message. These two Americans are not "saving Africans". They are not introducing a new "less primitive" technique. They are being exposed to Africa's best and brightest, to people who may well have been on scholarship to an engineering program if they'd been born in different circumstances.
no training in electronics
except for a gift from Kyle Wiens at iFixIT - two compact electronics tool kits. They are the students, the apprentices, the learners, the aid recipients. They are learning what the tech sector needs - and doesn't need - from across the ocean.
Meanwhile, in Vermont USA
, two other college scholars, from Wentworth Institute and Middlebury, are working in our own Online Sales departments. One is a 4th year student in computer science, the other an undeclared sophomore. Both are working in our online parts testing and sales unit, managing the 20% of electronics "discards" that bring us 80% of our income. This month, the two USA interns will give a tour of the operation to a group from
PLAN - Post Landfill Action Network
, a "ZeroWaste" organization that unites recycling coordinators from hundreds of USA institutions of higher learning.
We hope the outcome of Fair Trade Recycling's will bring an immediate "globalization" benefit. Africa Techs need parts, but don't want to import entire TVs to get the parts they need. And there is no frigging way they can afford to buy replacement parts from original equipment manufacturers.
Heliocentric Circular Economy
Earlier this year, we announced a "e-Waste Offset" plan, so that American Institutions could know that even if Africa (or Asia, or Latin America) Geeks of Color
did
import something they couldn't fix or couldn't sell (and I assure you, that is NOT profitable or their goal), that they would collect as many obsolete e-waste items from African city streets, and recycle them correctly. Rather than worry whether the Techs are "good enough" to repair USA stuff, or worry about how much time something stays on the shelf, we saw that our interests are completely aligned.
We have tested working parts. Africa's Tech Sector needs those parts.
And today's generation of students is actually following Atticus Finch's advice to Scout in "To Kill a Mockingbird".
"You never really understand a person until you consider things from his point of view … until you climb into his skin and walk around in it."
Joe "Hurricane" Benson, the Nigerian-born TV repairman who UK Environmental Agency chief Lord Chris Smith very, very proudly put in prison, had no incentive to export waste. Anything he examined that was not repairable he returned free of charge to the UK drop sites. Anything he didn't return he paid money for, far more money that the object was worth in scrap. And then paid thousands of dollars to ship through Ghana customs.
The whole idea that E-Stewards and Basel Action Network know what is better for Africa's Tech Sector is absurd. They could not even get an expert from Ghana to back them up... the guy they brought to INTERPOL's meeting described Agbogbloshie as a "remote fishing village" thirteen years earlier, and said 500 sea containers per month are dumped at the site. The newspaper the "journalist" claimed to work for doesn't exist. That was a year before Benson's arrest.

Friendly fire. Collateral damage. Accidental racism. Racial profiling. Charitable industrial complex. Colonialism.
There are so many obvious ways that this was wrong, yet so many soft hearted environmentalists and journalists raised the victory flag when Benson was sentenced.
Fair Trade Recycling sees people for what they can do, not for what they cannot. It extends to Americans with Disabilities Act, Veterans, Special Olympics here in Vermont. And when we go to Hong Kong, we write about the EcoPark, not "rice paddies". When see a GPS point in Pakistan, we recognize it's at a refurbishing mall near the University at Faisalabad. Or the third floor of an Egyptian Technology Mall.
I see an African Attorney training a USA job counseling placement. You?
We aren't saying that Africa's Tech Sector is perfect any more than we are saying that certified USA e-waste companies are perfect. What we are saying is that black interests and white interests are generally aligned in the global "e-waste" market.
Americans want to make parts as valuable as possible. And Africa's "Big Bang Theory" people give the parts that value.
They are creating what a World Bank consultant called "the critical mass of users" necessary for cell phone towers, TV stations, and internet cable investments. The "good enough market" they sell to can get online, call their families, and buzz me on Whatsapp.
The stuff won't work forever. Someday it will get discarded. Perhaps in Agbogbloshie.
But the device, elements of which (coltan, silver, tin, copper) were mined from horrible hard rock mining sites, are used for 20 years (5 in the UK or USA, 15 more in Africa) rather than 5 years and into a shredder. The repair and overhaul and maintenance sector is what I coin the "Tinkerer's Blessing", the equal and opposite force to the "
Resource Curse
", aka "Pardox of Plenty".
As I told a gathering of 100 European e-waste professionals and regulators, six months ago today, the "Circular Economy" is a fantastic idea. But as the great Europeans Copernicus and Galileo explained, "it doesn't revolve around YOU". The African hands who mined the metals from the rainforests are not paid much, but they are part of the circle, and have a right to use, reuse, and even "gasp" disassemble and recycle the electronics.
Banning trade sends that trade into back alleys, where it gets worse. Fair Trade Recycling represents a new generation of student activists, who were not born when 1960s postcolonial profiling of "less developed third world countries" began.
Touche Pas A Mon Pote, mes amis.
And happy Bastille Day Weekend.
Hans Rosling's better world is a product of peace, which is a product of trade and globalization. Things like Fairtrade Coffee are not a panacea, but they helped the news get better and the world to get brighter. This is how Fair Trade Coffee was invented. Green Mountain Coffee in Vermont was one of the earliest adapters. Most Americans didn't understand or care about coffee plantations, and the idea to "boycott coffee" was doomed. But colleges and universities started buying "fair Trade" certified coffee, and the millions in orders gave incentives to other coffee companies to meet those standards.


Sat, 15 Jul 2017 14:30:00 +0000